There is something really satisfying about seeing your finished pottery piece after it's fresh out of the kiln. Whether you're looking to create ceramics on the pottery wheel, looking to paint with pottery glazes, or wanting to learn the art of hand-building pottery, there will be pottery classes in Bristol that will help you create a masterpiece no matter your previous experience or skill.
You can find one-to-one pottery throwing classes for beginners, pottery taster sessions to try a bit of everything, professional pottery courses to develop existing skills, or you can find more casual clay dates where you can just get stuck into the joy of creation.
Pottery is a relaxing craft that does wonders for your wellbeing, and it can be taken as seriously or as casually as you like. You don't need to go into a pottery class knowing what you are going to create, you can let your imagination run wild because one of the beauties of pottery as a craft is that if you make a mistake it's really easy to start your project again!
The workshops below can be done by yourself as a way of learning a new skill, enjoyed as an unusual date night activity, or you can take your friends to a pottery class and treat it as a fun day out to make mucky memories.
You can find pottery classes across Bristol, and we've included classes in Fishponds, Bedminster, Stokes Croft, and more so that you can find a pottery class near you.
Pottery introduction hand-building and wheel throwing session in Fishponds
Pottery and pints at The Coronation pub in Southville
Boob pot workshop in Stokes Croft
Make a mug and coaster pottery workshop on Gloucester Road
6-week hand-building course in Stokes Croft
6-week pottery wheel throwing course in Stokes Croft
Private pottery wheel workshop for two in Bedminster
Mad Potters tea party and decorative teapot making in St Werburghs
BYOB pottery and prosecco night in Stokes Croft
Creative pottery workshop for the adventurous on Gloucester Road
Self-guided pottery session with Trylla's Clay Club in Bedminster
Here are the top 11 pottery classes in Bristol, from pottery at the pub with pints to 6-week pottery classes that will have you throwing like a professional:
1. Pottery hand-building and wheel throwing session: Ridgeway Studios, Fishponds
Unsure of whether you'll prefer hand-building or throwing on the wheel? This crafty pottery session with Ridgeway Studios in Fishponds will give you a taste of both worlds and is perfect for your first pottery workshop.
This pottery evening in the northeast of Bristol (about 3 miles from the city centre) is led by the resident ceramics artists at Ridgeway Studios. You'll be supported by a team of passionate ceramicists that each specialise in a different area of clay work. You will learn how to throw on the wheel and will be guided as you create your first pot. This is an accessible pottery workshop that is perfect for first-timers! You will have loads of support from a number of friendly faces.
Whilst you are not on the wheel you'll be hand-building with stoneware clay. There are plenty of tools and forms available so that you can easily construct bowls, mugs, decorations, sculptures, dishes, and ornaments.
This workshop is ideal if you can't decide on which form of ceramics you want to discover, or if you just want to try them all!
🏺Pottery hand-building and wheel throwing session in Fishponds, £40 per person
2. Pottery and pints at The Coronation pub: 18 Dean Lane, BS3 1DD
Pot Heads at the Pub is a great choice for people wanting to do pottery in a more social and casual setting.
This pottery workshop is based at Southville favourite local The Coronation, which is known for its cheap prices, good roasts, friendly and relaxed dog-friendly atmosphere, and the two resident pub cats. A drink of your choice is included in the ticket price, and The Coronation stocks a wide variety of local brews, an eclectic gin collection, wines, cocktails, and non-alcoholic drinks.
Pot Heads are handmade ceramic beings that bring a bit of silly into the world. The idea was born when ceramics artist Tasha Bee was working at a pottery studio which supports individuals with learning difficulties and autism. She wanted everyone to benefit from the playful and relaxing nature of clay so she created a step-by-step process that could be mastered by anyone. Every Pot Head is uniquely different and reflects the nature and personality of the potter creating them, and they look incredible finished off with a plant of your choice supplied by Tasha.
No experience is needed for this workshop, Tasha will guide you step-by-step as you learn simple hand-building techniques. You'll then have the confidence to unleash your own creativity and create your own unique Pot Heads character.
You'll be able to take your Pot Head, a plant 'hairstyle' of choice, and a Pot Heads goody bag away on the day.
🏺Pottery and pints at The Coronation pub in Southville, £32 per person
3. Boob pot workshop with Get Ya Pots Out: Picton Lane, Stokes Croft
Looking for a pottery workshop that's a bit of a laugh and perfect to do with the girls as a birthday treat, a hen do activity, or just as an excuse to get together? You'll have to try this boob pot workshop!
Boob pots shot to popularity over Instagram and Pinterest, and they are a brilliant way to celebrate women's bodies in all their beautiful diversity. You can make them big, small, lopsided, saggy, asymmetrical, anything you want!
These pots make a great home decor item and you can use them as a unique plant pot, a fun pen pot, a mug, or anything else you can think of! This workshop gives you a choice of colourful slips to paint your finished pottery piece with, and then it is fired and glazed for you.
This pottery workshop is in Stokes Croft, so you can really make a day out of it. Stokes Croft is the cultural quarter of Bristol, and you can enjoy the many ecelectic independents there when you visit.
Places to visit if you're looking at doing an afternoon pottery workshop are: Cafe Kino (a vegan cafe that does a great BLT), The Bristolian (has an extensive menu and a great range of salads and cakes), Biblos (they do massive fresh wraps and have great vegan options), and Here Gallery and Bookshop (a great place to visit for art prints, illustrated children's books, and independent magazines).
Places to visit after an evening pottery workshop: Pipe & Slippers (great cocktails including the famous Pipe Dream), Viet Kitchen (amazing Vietnamese food and condensed milk drip coffees), The Canteen (free live music every night and great locally-sourced food), Caribbean Croft (mouthwatering Caribbean food with recipes passed down from the chef's nan), Nadu (authentic Sri Lankan restaurant with an amazing range of rums), and Poco Tapas (a sustainable tapas bar with a seasonally changing menu).
🏺Boob pot workshop with Get Ya Pots Out in Stokes Croft, £45 per person
4. Make a mug and coaster pottery workshop: Kiln, Gloucester Road
If you are a tea or coffee drinker then this pottery workshop will definitely be your cup of tea (excuse the pun). This mug and coaster making workshop is at Kiln Workshop on Gloucester Road where you can also find pottery painting (check out their Instagram for some serious painting inspo).
Refreshments such as teas and coffees are available to keep you fueled as you create your masterpiece and you'll have access to all the tools, templates, letters to emboss with, and support from artist and hand-built pottery ceramicist Jess from Made this Mess.
Everyone has a 'special' mug at home. You know the one. The one that everyone knows not to use, and the one that tea and coffee just doesn't taste right without. Well that mug is about to have a rude awakening; there's going to be a new mug in town and it's going to be hand-built by you. This workshop uses hand-building and slab techniques to create a mug and coaster that are then glazed and fired by Jess in order to make them food and dishwasher safe.
Gloucester Road is a great location for this pottery workshop, and you will find Kiln close to The Arches. Some venues to check out whilst you are in the area include The Cloak and Dagger (incredible food, next-level roasts, and brilliant cocktails), Koocha Mezze Bar (a plant-based Persian and Middle Eastern restaurant), and Filthy XIII (a quirky cocktail bar from the people behind Her Majesty's Secret Service in Clifton).
🏺Make a mug and coaster pottery workshop on Gloucester Road, £45 per person
5. 6-week hand-building course: Picton Lane, Stokes Croft
For most people that try pottery for the first time, one pottery lesson is just not enough. The pottery bug is an easy bug to catch, and once you try one pottery lesson you'll wish you'd signed up for a pottery course instead.
This six-week pottery lessons course in Stokes Croft will give you plenty of time to get properly acquainted with hand-building ceramics and you'll have loads of finished pottery pieces to display proudly at the end of the course.
Before humans used wheels to spin clay, pottery was hand-built. Hand-building is a great way to explore unusual shapes and textures in clay and can inform your knowledge of structures and composition when you throw clay on a wheel. There is a lot of freedom to be had with hand-building and this course is a fantastic way of discovering what it is about clay that you like.
From personal experience, I thought I would be prouder of pottery made on a wheel because it was uniform, neat, and even. However, I was shocked to discover that when my finished pieces came out of the kiln I had much more love and affinity for my hand-built pieces. I liked the rustic effect and there was a sense of life and tactile touch left in the shapes and forms of the clay.
A longer course is ideal for those that want to discover what sort of ceramics artist they are, and start the journey of discovering your own unique style.
🏺6-week hand-building course in Stokes Croft, £160 per person
6. 6-week pottery wheel throwing course: Picton Lane, Stokes Croft
Like mentioned before, one beginner's pottery class is just not enough sometimes. If you've done an introduction to pottery class and you've well and truly fallen in love with pottery then this six-week course in wheel throwing is the next logical step.
Throwing pottery on a wheel is technical, yet therapeutic. Consider this course to be two hours each week that you dedicate time to relaxing, discovering a new hobby, and perfecting your craft in pottery.
With this course you can really get in touch with the wheel and the way in which clay moves and moulds under your touch. It can take a little bit of time to really understand how to build up a ceramics piece without it collapsing; but with a couple of sessions, you develop a sixth sense and a confidence in your pottery wheel throwing abilities.
You could craft your own dinner set, a round of vases and bowls, a set of mugs, or anything else your heart desires. It's an exciting journey to start, and by the end of the course you will feel confident enough to create pottery on the wheel by yourself.
🏺6-week pottery wheel throwing course in Stokes Croft, £180 per person
7. Private pottery wheel workshop for two in Bedminster: Trylla Shop on North Street, Bedminster
On Bedminster's North Street you can take a private pottery wheel class for one or two people at Trylla.
If you've ever watched The Great Pottery Throw Down and wanted to give throwing on a pottery wheel a go, this is your sign! During this session the focus is on throwing pots until you feel confident enough to create one on the wheel without guidance.
Coloured slip is available to decorate your pots once they've been thrown and before they are fired and glazed. Coloured slip is a watered-down clay that is coloured with pigments and you can apply this to a pot before it's fired. With glazes you need to have a pot fired once before applying them, but the coloured slip allows you to decorate your creations on the day that you make them.
A pottery wheel class for two makes a great date (you can make things for each other- cute!), or something special to do with a family member or friend. The location of this ceramics studio is perfect for going for food and drinks after.
🏺Private pottery wheel workshop for two in Bedminster, £100 for two people
8. Mad Potters tea party and decorative teapot making: St Werburghs, BS2 9PG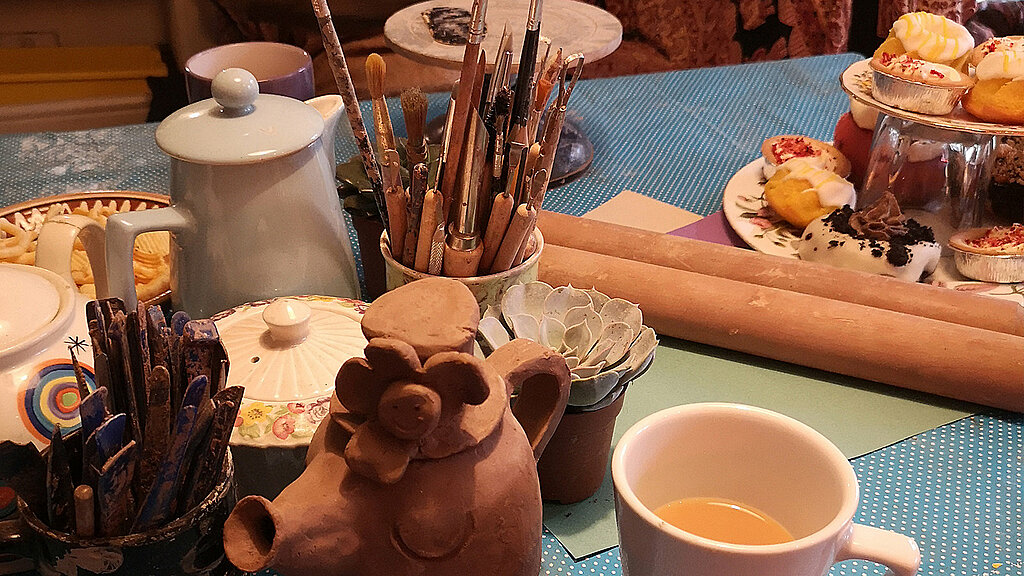 Combine two brilliant things: pottery and food. Not literally (it wouldn't taste great), but enjoy an afternoon tea whilst you create decorative teapots from clay in St Werburghs.
The wonderful Tasha from Pot Heads brings this unique Pot Head edit to the platform, and this experience would make a brilliant Mother's Day gift, or something to do with lovely mum. Tasha will pick a generous selection of delicious cakes and keep the tea coming as you hand-build a teapot with her assistance. Alice in Wonderland would be extremely jealous!
This workshop uses air-drying clay and your teapot is purely decorative, so you'll be able to decorate it as elaborately and ridiculously as you like. Tasta will also give you some paints to take away with you so you can paint the teapot at home if you like. If you are making a day of it you can leave your teapot with Tasha to pick up later.
St Werburghs (in my opinion) is the perfect place to take mum for a Mother's Day treat. The St Werburghs City Farm is really nice and relaxed (I enjoy giving the piggies a little belly scratch if I can reach them), the cafe next door is great for breakfast and brunch and the structure was hand-carved by a Bristol artist and is reminiscent of a hobbit house, the Farm Pub is really relaxed, serves food, and has a great outdoor area, and there are a number of independent cafes and shops in the area.
🏺Mad Potters tea party and decorative teapot making in St Werburghs, £85 per person
9. BYOB pottery and prosecco night: Picton Lane, Stokes Croft
Pottery and prosecco. You can't really go wrong can you? This pottery experience is great for a date night with a difference in Bristol. It would also suit a very Bristol hen do party (we love cool and quirky, don't we?) or just an excuse for some seccy with the girlies!
This workshop is on a Friday, so it's a banging way to start the weekend. Plus you are right in the middle of Stokes Croft, one of the best locations in Bristol for a night out. Did somebody say pottery pre-drinks?? Bring it on! Your host will provide you with a cheeky glass of prosecco, and you are welcome to bring some drinks with you to the experience!
Your hand-built pieces will be glazed and fired ready for collection a few weeks later.
Right, now let's organise our night out after this ultimate pre-drinks in Stokes Croft. We already know Pipe & Slippers does a good cocktail, or we could grab a Ray's Pizza at the Crofter's Garden which is right around the corner from Picton Lane. Speaking of Crofters... maybe there's some good music at Crofter's Rights? Or we could head to Love Inn for music and dancing? Oh there's so much choice!
🏺BYOB pottery and prosecco night in Stokes Croft, £35 per person
10. Creative pottery workshop for the adventurous: Kiln, Gloucester Road
This pottery workshop is for the curious, creative and adventurous! You'll join Jess of Made this Mess, ceramicist and passionate pottery hand-builder to draw, plan and create something more complex, but still with the support and guidance of a ceramics artist.
From plant pots to sculptures and from mugs to serving dishes, you'll be able to design something spectacular and personal before bringing it to life. This workshop is perfect if you like to do things your way and if you feel like creating a ceramics piece that will push you a little bit. Sometimes going a little bit out of our comfort zone is what creates the pieces we are most proud of- so this is the perfect environment to do it in.
To get the most out of this experience I would personally do a bit of Instagram/Tik Tok scrolling to get some inspiration about what I wanted to create in this session. Having done a couple of the other pottery experiences on Yuup, I would do this one to challenge myself and make something a little more elaborate.
Jess' draw, plan and create pottery workshop is for those that like to break the mould, but with expert guidance.
🏺Creative pottery workshop for the adventurous on Gloucester Road, £45 per person
11. Self-guided pottery session: Trylla Shop on North Street, Bedminster
Want to be left to it and do your own thing? You've got it! This self-led pottery session at Trylla is the pottery experience for you!
You'll have access to all the tools and the wheel at Trylla to make whatever you want, and you can choose which clay you'd like to work with. From memory there was a stoneware clay (it's a grey colour and good for hand-building but can be a bit rough when throwing on a wheel), a terracotta clay (a reddish clay that is smoother and suitable for wheel throwing), and there was a white clay (I think this was a ceramic potter's clay, but don't quote me).
You get a kilo of clay to work with, and you can make whatever you want in the time you have. Your pieces are fired, but not glazed, so you can book in another Clay Club experience and go back to apply ceramics paint to your piece before it gets fired again and glazed.
This is a great experience to go to if you are unsure you'll like pottery, but still want to give it a go. It's only £15 for the session, and although you don't get any help in making something it's a great way to dip your toe into the water.
🏺Self-guided pottery session with Trylla's Clay Club in Bedminster, £15 per person