"I brewed a beer with my mates at uni and then we sold it to pubs to raise money for our final year show, and that was my first little taste of running a business. I was hustling, going around South London in a van with this beer getting a lot of parking tickets. I think that was my first kick of running a creative business... but then I think I was just nervous about doing it myself for a few years."
Jess Knights is a freelance illustrator who works out of a small studio just off Stokes Croft, Bristol. As she shows me around the cosy space, tucked away at the top of many flights of winding stairs, she points out some of the work her fellow studio-mates have been working on.
The studio is light and airy with a big window. The sill painted lego yellow and lined with a collection of hanging plants, and a two-seater sofa draped in a royal blue throw. Scattered across the wall you can see Jess' past and present work, her illustrated seasonal produce calendar, and posters for her creative workshops.
"I never knew anyone growing up that had a creative career. I had no idea that design agencies existed and I also barely knew anyone that was self-employed. Moving to London for university was a big eye-opener for learning about creative careers but I still didn't learn the skills to know how to run a creative business by myself."
Jess took the plunge to go freelance in 2021 after moving to Bristol and connecting with entrepreneurs in the food and creative industry. Her keen interest in local, seasonal produce introduced her to Bristol's indie hospitality network including Cider Box, The Bristol Cheesemonger and The Star and Dove. It was through meeting Bristol's creative network that she found the confidence to start to create the career that she wanted.
Daniel Heath, the founder of Cider Box, had been running cider tours through Yuup and suggested to Jess that she might be able to support her freelance illustration by hosting workshops. He brought her along to the Yuup host Christmas party in December 2021 and that's where the ball got rolling for Jess' Creative Club.
At the Christmas party, Jess was inspired by the variety of different experiences that the Yuup hosts held across Bristol and got talking to Holly, Yuup's Bristol Experience Curator.
"I wanted to run workshops, I just felt that that was something that I could do really well. I've always been quite a people person and I was looking at what Dan from Cider Box was doing with his cider tours and I was like, I could do that! I felt that the things I'd seen the Yuup hosts do that I could do the same thing- but with my own skills."
Holly and Jess met for a coffee and a chat about creating workshops that used the best of Jess' skills:
"I was clueless, and I should probably come with more ideas to the meeting, but I think maybe it was the confidence thing coming in again. I asked if people were actually going to want to buy tickets to see me show them how to make illustrations.

"I didn't really think that that was enough, but Holly convinced me that I obviously was enough and then we sat down and worked out how to bring it all together."
Jess teamed up with her local pub that she'd worked with in the past. She'd created illustrations of The Star and Dove's seasonal dishes to put up around the restaurant area. They had a room to the side that was quiet during weekday evenings and they were happy for Jess to host her workshops there and to increase the footfall of punters on quiet evenings.
Jess was over the moon. She was passionate that her illustration workshops would be accessible and relaxed, so that everyone could experience the joy of creating. The pub was perfect. Guests could get drinks or food in, whilst playing fun illustration games and really getting into the carefree creativity of the club.
"It really works for everyone and that's really nice because it continued the community theme that I'd experienced in Bristol. Different creatives bringing their skills together to make something, that was just one those things that I was interested in. Hosting at The Star and Dove allowed me to keep the ticket price quite low, because I really wanted it to be an accessible experience for people."
"The workshops are fun! We laugh and I really like how people can just grab a drink and that it's no pressure. I don't want people to feel that they have to be a brilliant artist. It's more about the element of play and using creativity as a way to connect with other people. That was always my intention."
Jess' workshops start with a fun icebreaker where you are introduced to the other guests. It warms the room up and gets everyone chatting and in a mood to meet some new friends. After a few rounds of drawing games to get everyone's creative juices flowing, Jess introduces you to her unique style of illustration and shows you how to create something similar yourself.
The star of the show is the seasonal vegetables that Jess picks up from a local greengrocer. It's in these workshops that you appreciate the beauty, texture, colours, and shapes of British vegetables whilst learning about the importance of sustainable produce.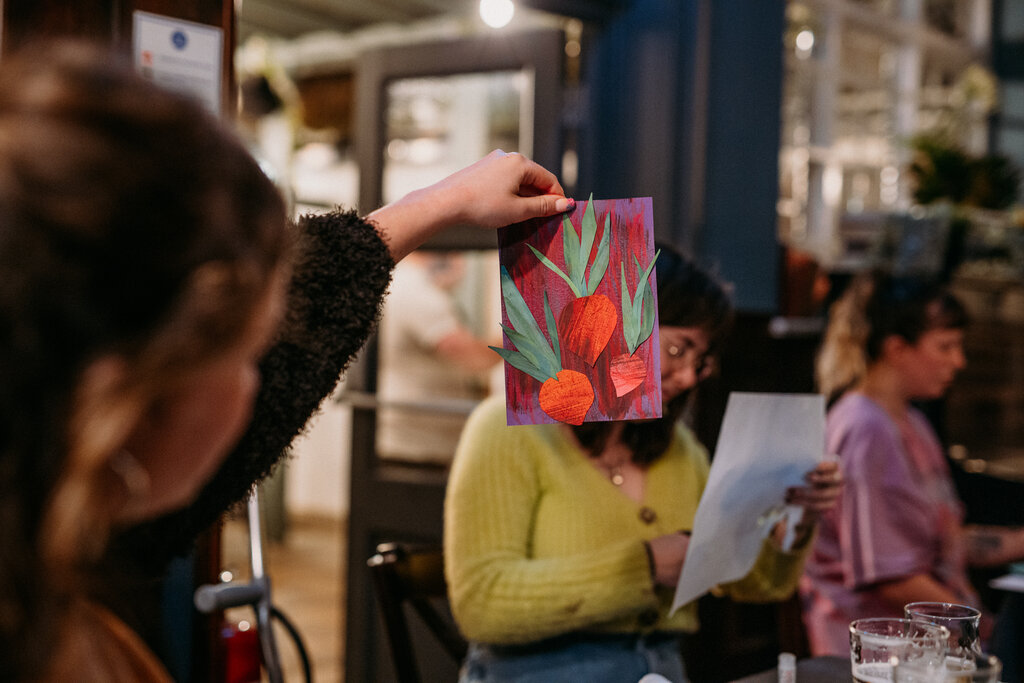 "I want to give people that confidence that they really are creative at the end of the workshop. Illustration isn't necessarily about making something look exactly like the thing that you're looking at or drawing. It's about getting the essence of it and it can be quite naive or quite messy. It's all about the character and the charm. That's the important part about creativity; it doesn't have to be perfect."
"A lot of things in life are trying to get us to be perfect. It's a bit gross. So, yeah, this is meant to be an enjoyable experience where you can make friends and create things without pressure."
Since joining Yuup, Jess has collaborated with pottery workshop hosts Pottymouth Workshops. In these workshops, they combined their skills so that guests could learn how to make bowls out of pottery and then illustrate the bowls to make a gorgeous fruit bowl or ramen bowl. Jess loved the experience and is really looking forward to future collaborations with Bristol's creatives in 2023.
"I'm really hoping to work with more local hosts and create more new workshop ideas. I'm already in talks with one or two and I'm really excited for them to come to fruition! I'm also looking so collaborate with other venues across Bristol as well."
"Holly gave me the confidence that people do want to learn about being creative and that I had what it took to start hosting my own workshops, which is something that I was kind of doubtful of in the beginning. This experience has definitely boosted my confidence and I'm excited about what's to come!"