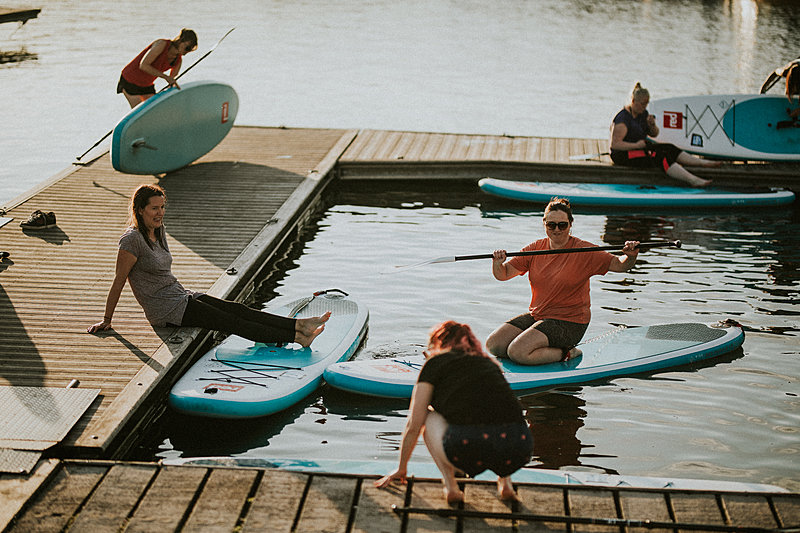 Top things to do this August bank holiday in Bristol
---
We've lots of fun things to do in Bristol this August bank holiday, and to make planning a breeze, we've whipped up a day by day guide to the perfect Bristol bank holiday. A long weekend of exploring Bristol, tucking into the best food and drink and nights out with friends awaits...
Friday night
Take a walk around the Old City and see the streets you thought you knew in a whole new light. This evening experience is the perfect thing to do before heading to King Street for a drink or two and recounting all your new-found Bristol ghost stories.
Book Haunted and Hidden
A bank holiday Friday night out, but with axes. Bring your mates along for this city centre axe throwing bonanza, courtesy of Whistle Punks. After the team shows you how to hit the target with your trusty axe, the game is on to find your crew's best axe thrower. Stay for a free drink after to toast your new axe throwing talents.
Book axe throwing
Saturday
A full day of Bristol experiences around the city including cider, music and street art...
Get out of the city centre and explore along wild footpaths around the outskirts of Bristol, from Keynsham towards Hanham Lock. As you walk you'll find river plants and wild herbs to taste and pick, before having a go at making your own infused oils and balms with the help of your host, Maria.
Book foraging
Simplify all the manual settings on your DSLR or compact camera in this unbelievably useful beginners photography experience. By the end of your 3 hours with photographer, Mickael Malaper, you'll be confidently taking photos and ready to shoot in all sorts of lighting situations - the perfect chance to take your hobby to the next level!
Book photography
With Upfest's 75 walls in 75 days in full swing, now's the perfect time to join the team for a street art walk to get a first look at all the new art in Bedminster. Hear the stories and inspiration behind the art and discover the artists behind this new body of work as you wander the streets of BS3 to check out huge new murals and hidden pieces.
Book Upfest
Summer blooms await in this flower crown making experience, where you'll be able to connect with nature as you create. This meditative bank holiday workshop will heighten your senses and deepen your appreciation for nature.
Book flower crown making
Saturday afternoon
If you're feeling inspired by Bristol's reopening music scene, why not get involved yourself and give handpan playing a go. Discover more about this amazing instrument with the expert handpan makers from Handpan Academy Bristol, as you play together and fill your bank holiday with music.
Book handpan playing
Fancy making a bank holiday celebration cake? Join Bristol's Bake Off star, Briony Williams, for a fun afternoon of baking at The Square Food Foundation. Together you'll bake up a storm as you discover the secrets to making a light and fluffy sponge cake and then add decorations to wow your friends and family. Star baker status achieved!
Book baking with Briony
What could be better on a sunny long weekend than taking to the water to explore the city by paddleboard. No previous experience is needed as you hop on your board and learn the basics, then glide down the harbour past Hotwells, The Matthew and more.
Book a paddleboarding adventure
Quench your thirst with some proper West Country cider, hand picked by the good folk at The Cider Box. Taste the 3 of the top tipples for the weekend and relax in the Cider Box's chilled out bar in the railway arches of St Philips.
Book cider tasting
Balloons have filled the skies during Bristol's Fiesta Fortnight, and if you fancy floating over Bristol yourself, this bank holiday you can. Join Sky High Ballooning in an unforgettable evening flight over the city, where you'll take in some of Bristol's most iconic landmarks before drifting countryside and eventually landing to a celebratory drink to toast your flight. Perfect!
Book a hot air balloon flight
Sunday
A day out cycling along Bristol's Strawberry Line with a twist… On this bike ride you get to enjoy all the beautiful scenery whilst your e-bike does most of the hard work! You'll be given a route and your own picnic at the beginning of the day, then you'll enjoy the adventure
Book cycling
Dancing on the Downs is the high-energy way to kick start your Sunday. You'll have loads of fun as you move and discover some new dance steps along the way. The perfect chance to enjoy the bank holiday sunshine while getting active!
Book dance fitness
Sunday afternoon
Another chance to see the 75 new graffiti pieces on walls across BS3 and get in the inside scoop on new street art as it happens. On what would have been Upfest weekend (the festival has now been postponed until 2022), get your graffiti fix from the experts.
Book Upfest
Wine lovers should head over to KASK on North Street, where you'll find some of the tastiest sustainable wines in town. Your specially selected wine flight comes with local cheeses to perfectly go with the drinks, cheers!
Book KASK
On your bank holiday travels around the city why not have a pit stop at the brilliant Bristol Beer Factory and try a selection of their latest brews. Quench your thirst with 3 of your top beers, then choose your favourite to fill up a 3-pint BFF growler to take home with you.
Book a taproom tasting

All day Sunday
Spend the day making your own mechanical toy with some Bristol toy-making experts. You'll draw and cut a host of cams, cranks and mechanisms and use different types of wood and a vast range of tools throughout the day. At the end of the day you'll go home with your own fully-functioning one-shaft mechanical toy!
Book toy making

Saturday & Sunday
A full weekend of campervan fun will see you find all the skills you need to turn your standard van into a camper's dream. As a group you'll build a freestanding sink and cooker unit from scratch as well as looking at integrated water, lighting and more to make your own van perfect to travel in.
Book campervan converting
Bank holiday Monday
Here's the perfect experience for a bank holiday date, where you'll spend the day meandering through the countryside along The Strawberry Line, just on the outskirts of Bristol. Riding your tandem takes teamwork and we can guarantee loads of fun and a tasty picnic lunch along the way.
Book tandem bike riding

10am
Mindfulness group meditation
Set yourself up for a dreamy Bank holiday Monday with a mindfulness group meditation in serene Chew Valley. Mindfulness can help to reduce stress, improve focus and calm the body, so why not go along with friends to relax and recharge.
Book mindfulness in Chew Valley

Monday afternoon
A paddleboarding taster is great for anyone giving this fun sport a go for the first time, particularly if you're a little worried about toppling off your board. This taster will go at a steady pace and give you all the basic skills to get you standing. By the end of the experience you'll likely be surprised at just how far you've come!
Book a paddleboarding taster
Experience virtual reality in the heart of Bristol, with a variety of games and immersive worlds to lose yourself in. Take an hour to explore, car race with your friends, swim with humpback whales in the deep ocean and more.
Book a VR experience

Want to check out more experiences for the bank holiday? See everything you can do by exploring all experiences.