Autumn is a beautiful time of year, but sometimes the changing of the seasons and recovering from a busy summer can leave us feeling low on energy and a little burnt out.
Cold weather, rainy days, and Seasonal affective disorder (SAD) can all have an impact on our mental health, but the silver lining is that any excuse to give our brains some TLC is a good excuse. Treating this time as a brain hibernation (feed it good stuff and let it rest and recuperate) will have you brighter and better than ever.
The following experiences are just a handful of the many wellbeing experiences that are currently featured on Yuup. The hosts that run these experiences are expert practitioners in their field and are there to ensure you have a brighter, happier, and healthier autumn and winter season.
Weave a wall hanging inspired by nature with Mary Maddocks
Like a mental health checklist, some people have a gentle prompt in their home that tells them to check in with themselves and do whatever it is that makes them feel calmer, happier, or more determined. This gentle reminder could be handwritten affirmations by the mirror, it could be a favourite mug with a feelgood quote on it, or it could be an alarm you set on your phone.
Having something visual that acts as a reminder is ideal if you are looking to make a habit out of wellbeing check-ins. The act of weaving itself is very zen and methodical, and your hosts have curated this experience so that mindfulness and connection to self and nature is at the very heart of it all.
Your finished piece can then be hung proudly in your home and serve as a reminder to treat yourself with kindness every day.
Magical sound healing with Bristol Intuitive Sound Healing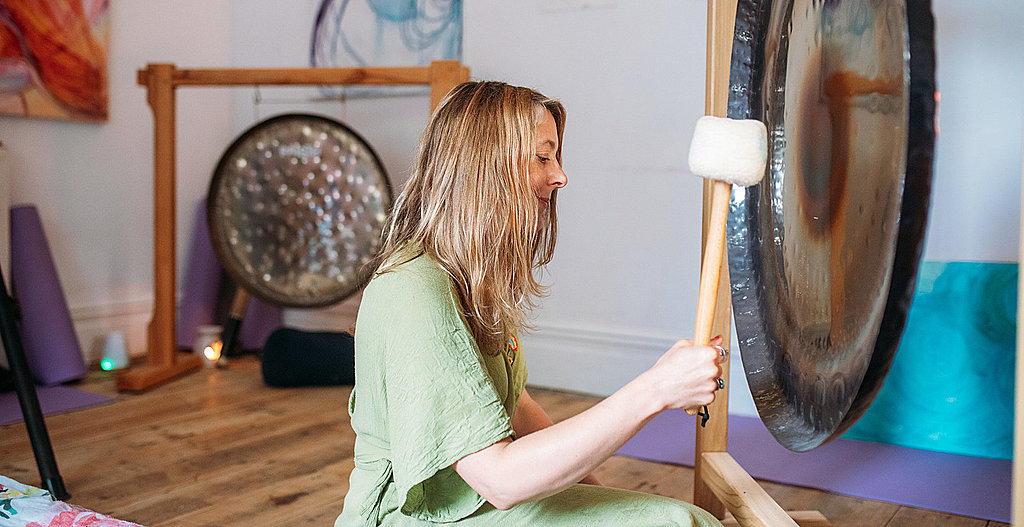 Have you ever had a cat sit on you and the moment it purrs you're overcome by a deep sense of contentment? Or have you felt goosebumps dance across your body as you listened to a particular song? Or have you felt the base drop and suddenly been on cloud nine?
Sound and vibrations do miraculous things to our bodies. They can liven us up or mellow us out and can even be used for healing. Studies have found that different sound frequencies can help heal swelling, bone damage, and muscle repair- and sound healing has been a practice used for centuries across multiple cultures.
This experience will leave you feeling light as a feather and in a relaxed, dreamy state. It's the perfect choice for someone looking for a full-body calming experience.
Make an everlasting flower crown with Divina Botanica
Finding solace in reconnecting with the earth when under stress can be seen across cultures. When faced with anxiety or worries a breath of fresh air, a crackling fire, or colourful flowers can all have a soothing effect on the mind and body.
Host Elsie has worked in mental health support for over six years, and her work centres around using nature and the seasons to empower positive mental health and to help ground people. Her flower crown workshops are fuelled by mindfulness and every action in making the finished piece is taken with care and thoughtfulness.
Elsie guides you through the effect of colours, shapes, and composition on our mood and will help you create something beautiful whilst intertwining meditative practice.
Discover positive sleep with The Sleep Guru
A bad night's sleep can wreak havoc on your mind, mood, and body. Lack of sleep can make it hard to concentrate and learn, can have a massive impact on your happiness, and can even shorten your lifespan. Sleep health is so important to functioning, but we as a country are just not getting enough of it!
Your host Giles is a coach, mentor, and the author of 'Positive Sleep - A Holistic Approach to Resolve Sleep Issues and Transform Your Life'. This workshop will approach the common sleep-related issues that plague our day-to-day lives and leave us tossing and turning at night.
Working on your sleep hygiene is one of the best things you can do for your body as we enter darker and colder months, so book in with Giles if you need a hand in counting sheep.
The healing power of art journaling with Alive
Sometimes we don't have the words to express how we feel, but that doesn't mean we aren't feeling something. Art is there for us when words fail, and sometimes it is the easiest way to properly communicate what we are feeling with both ourselves and the world.
During this workshop you will be guided by hosts that are fully trained in therapy, mindfulness, and yoga. This experience will allow you to open up, talk honestly with yourself, and visualise ways that you can improve your mental health and make life more manageable.
Coming to terms with your emotions and using that knowledge to manifest a positive future is a powerful mental health tool with life-changing potential.