You know what they say... the way to a person's heart is through their stomach. It's the time of year when (let's not lie) food and gifts are the peak perks- so why not wrap the two of them into one big delicious gift?
Rather than get them a swanky kitchen gadget that may end up gathering dust or some novelty food-shaped bath smellies (if I can't eat it I'm not interested), why not let them get a first-hand taste of the action with these seven delectable food and drink experiences?
1. For the one with a sweet tooth: Heavenly chocolate-making workshop
Led by award-winning chocolatier, Lisa from The Chocolate Tart, this masterclass is a sweet gift to find under the tree! In the historic Victorian seaside town of Clevedon your lucky recipient will learn about everything chocolate—from bean to bar—before taking a well-deserved coffee and cake break to ruminate over their new-found knowledge.
Then it's time to roll sleeves up and get stuck into making a selection of dainty delicacies (moulded bon bons, hand-dipped truffles, fresh cream ganaches, chocolate puddles- these are just some of the treats made in past workshops).
The location of this workshop is ideal for anyone wanting to make a day of it as there are plenty of picturesque views and top-quality restaurants to choose from in the area.
2. For the future Bake Off winner: Discover the science of baking
Let's just take a moment to celebrate a Bristolian Bake Off win! Yay Giuseppe! Now back to the gifts:
They'll learn the method behind the magic in this awesome science-based baking workshop. The thing about baking is that it's a precise alchemy, and if you don't follow a recipe to the letter then you're in for some disastrous results (remember when Iain threw his baked Alaska in the bin? We do).
With this workshop, they'll learn WHY one needs certain amounts of particular ingredients. After this experience, they'll be able to go culinary off-roading and start to create their own baking recipes! The dream!
Lunch is included in this adventurous day of baking explorations, so it's a whole-round gastronomic experience.
3. For the one with adventurous tastes: Foraging and wild cocktails workshop
In a stunning private woodland in Tickenham, near Bristol and just off Clevedon Road, a wild cocktail masterclass will take place for one date only. This gift is fab for outdoors lovers, cocktail lovers, or anyone with a curious and inquisitive nature.
In this workshop, they'll be in the expert hands of professional foraging host Hannah. They will spend the day learning how to safely identify wild ingredients and how to turn these into syrups, bitters, and infusions for cocktails!
Ever had nettle margaritas or an elderflower spritz? You might have a couple coming your way after they've done this experience!
4. For the big kid: Bounce, beer and pizza
This one makes a great stocking filler and is great for pizza lovers! They'll be able to tuck into a freshly made, hand-pulled pizza coupled with a pint or soft drink of their choice at the Freedog cafe after getting a sweat on around a gigantic indoor trampoline park and foam pit ninja course.
This is perfect for groups, dates, or for someone fun-loving and with a bit of a silly side!
5. For someone that loves travelling: Ultimate dumpling masterclass
This one is for those that like to travel with their tastebuds! British-Chinese chef Emily shares an in-depth masterclass in traditional dumpling-making.
Dumplings come in all forms, from fried to steamed, but what they all have in common is that they are utterly delicious and are one of the top comfort foods to tuck into!
If your loved one enjoys hosting, this would be a winner under the tree. A dumpling feast is a great excuse to have people over to tuck into something they've proudly handmade.
6. For the coffee snob: Be a barista with Oddkin
Know someone that wouldn't be caught dead in a high street coffee chain? Do they wrinkle their nose at the thought of instant coffee? Do they have a prized collection of Moka pots at home? This is 100% the gift for them.
In the capable hands of the Head of Training at Oddkin coffee, they'll learn everything about coffee from bean to brew. They'll be taught how to identify a top-quality roast, the theory and science behind a gorgeously silky espresso, and how to get that milk perfectly micro-foamed. They'll even learn a spot of latte art!
7. For celebrity chef in the making: Half term pasta making for kids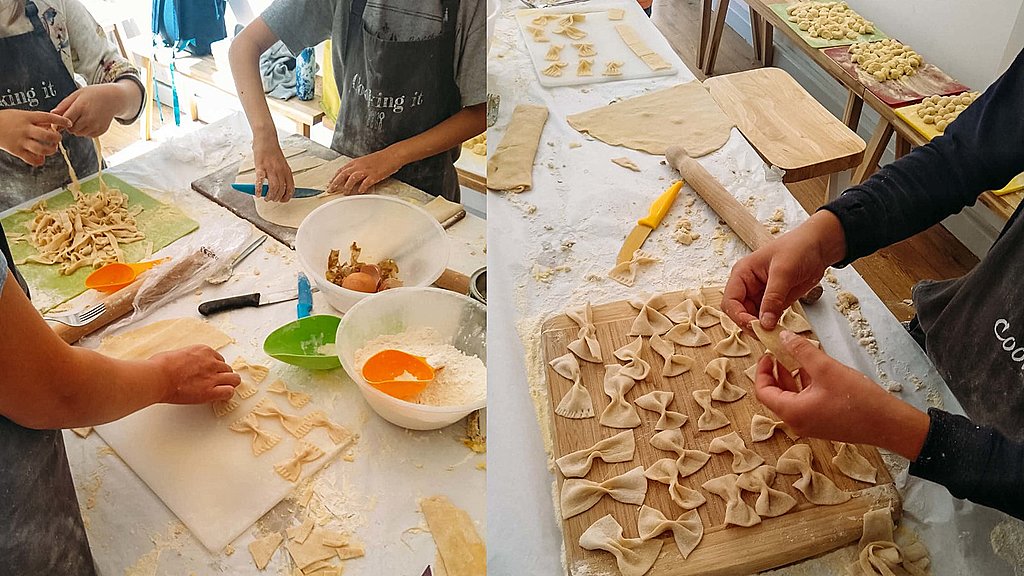 This February, treat the budding chef in your life to a fresh pasta-making masterclass! They'll learn how to make fresh pasta dough from scratch, how to roll and dry it, before making some super scrumptious farfalle and tagliatelle. If there is time at the end of the class they'll learn how to make a fresh basil and tomato sauce to complement their new kitchen skill!
This experience is ideal for 8 to 14-year-olds, but Cooking It can offer spaces for younger children if they are already cooking at home and keen to do more.