Meet Abbi Bayliss, the Bristol artist who'll help you find your own creative streak. Telling stories through her distinctive style, you might have already seen Abbi's exhibition of art celebrating Black women, the children's book she's illustrated or even the digital graphics she's produced in her role at Arnolfini.
At only 19, Abbi's work is making waves in Bristol's art scene and through her art experiences on Yuup, you can discover how to find your own artistic style too. We chatted to Abbi about what inspires her work, why she loves Bristol and what to expect on one of her digital art experiences...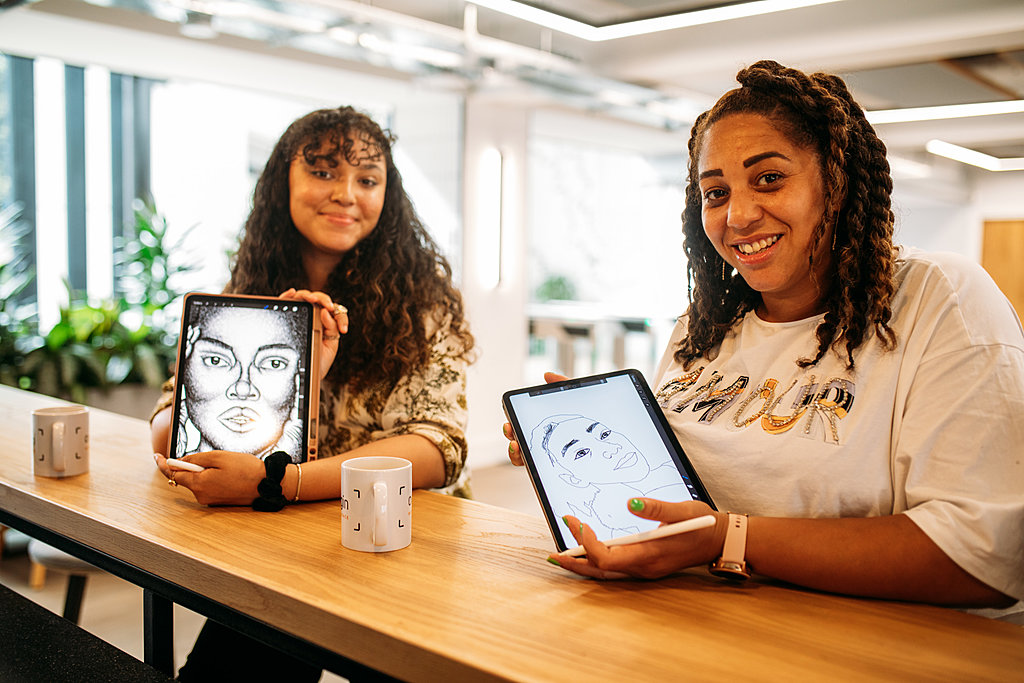 How did you develop your distinctive illustration style?
I work digitally using an iPad and pen, drawing hundreds of little lines to build up and create contours of the face. I work from photographs, observing the contrast between the dark and light, interpreting it into a monochrome illustration. When originally developing my style, I was always drawn to this rough, inky, sketch look. Before digital, I drew with biro as it was cheap and accessible, drawing all over anything I could find which stuck with me. When transitioning into digital art, I spent months experimenting with styles to only come full circle and return to the style that feels like home.

What inspires the art you make today?
I'm heavily inspired by people: their stories, histories and how they've influenced me. In my portraiture work I focus on Black women, capturing their power and vulnerability as a homage to their legacy. On the flip side, this last year I've had time to develop a new, colourful and playful style inspired by everyday shapes and patterns, which has materialized into a children's book series.

What made you want to share your art process with other people on Yuup?
Digital art is becoming increasingly intriguing to people and as someone who was once in the dark about it, I'd love to be that bridge for people. It's all about confidence to experiment, make mistakes and discover all the genius it has to offer. I've been running workshops a lot recently and the feeling you get seeing people enjoying an experience you've crafted yourself is incredibly wholesome.
View this post on Instagram
What should people expect when they come to your experiences?
Firstly, at my digital illustration experiences you can expect a warm and welcoming environment. This is a day to explore ideas, develop new skills and create a beautiful piece of artwork. Feel free to bring photos of friends, family, pets, scenery, objects etc. and I'll teach you the tricks on how to develop this in your own unique style. Being a self taught digital artist, I work in a variety of styles which I'm more than excited to share.

What's your top Bristol tip for anyone visiting the city?
I've recently bought a book 111 places in Bristol that you shouldn't miss by Martin Booth and it's changed the game! I like to choose a random page every week, take an electric scooter and go visit these hidden gems. I'd say the smaller undiscovered spots are the best bits about the city.

Where should people go to experience Bristol's buzzing art scene right now?
Definitely Arnolfini gallery, I've been working there as the Marketing and Comms Assistant this year and it really is the heart of the Harbourside. The building is always buzzing with must see exhibitions, currently showing pioneering painter Sir Frank Bowling OBE RA's exhibition 'Land of Many Waters' which I've also designed a guide for and written a curation on a painting. Another must see has to be Rising Arts Agency's #WhoseFuture Campaign which i'm happy to be a part of, taking over 139 billboards all over the city with artwork and poetry on care and wellbeing.
View this post on Instagram
Which moments throughout your journey as an artist so far really stand out?
I'm so grateful for all the opportunities I've had, but it has to be between being commissioned by David Olusoga for BBC's Black History Month or exhibiting in Carnaby Street. They're definitely moments I didn't believe until I saw it with my own eyes.

What do you love most about living in Bristol?
I love the strong sense of community the Bristol Arts sector has. There's always someone wanting to collaborate, support and champion all of the city's diverse talent. The culture collectives, the individual thinkers, the support networks, everything inspires and pushes me to think outside my comfort zone. It's the range of creativity for me, how I can go to St Pauls and see beautiful murals and then Park Street for handmade creations. There also seems to be no boundaries which I love - a massive installation could appear out of nowhere and it wouldn't shock anyone!

What was it like seeing yourself and art experiences on the Yuup billboards that have recently gone up across Bristol?
Seeing myself and my digital art experience on Yuup billboards was astounding, I was actually quite speechless. As an artist, having yourself alongside your work recognised and appreciated is one of the best feelings there is, it's such a full circle moment.

What other Yuup experience would you love to try?
All Yuup experiences are incredibly exciting, however the scuba diving and pottery making experiences definitely have my vote!