From much-loved characters to Academy Award-winning feature films, Aardman Animations has been telling stories through animation for almost 50 years, right here in Bristol.
Lead model maker, Jim Parkyn, hosts Aardman's model making experiences on Yuup, where everyone from kids to adults can come along to discover how Aardman's characters are created - and make their own! We talked to Jim about why he loves sharing his passion for model making, and what to expect when you come along to one of Aardman's workshops this summer...
What do you love about hosting Aardman's model making workshops?
The workshops are a lot of fun and it's a bit of an adrenaline kick to help a group of up to 60 or even 100 people make a Gromit in an hour. It's quite exciting and the more I've done it the more I've got out of it. The sense of community is really great. Being able to do the SS Great Britain experiences out in the real world for the first time in a while has been amazing. Showing Morph, Shaun and Wallace on a big screen and seeing people's reactions is really special too.
I like passing on my knowledge and I do that within the Aardman studio as well as in workshops. When I started my career there was no real gateway into this industry and I think that it's really important that I give another generation that opportunity.
What can people expect from an Aardman model making experience through Yuup?
Making at the SS Great Britain is actually really exciting - it's all part of the day out and the history of Bristol - what you make could be in part inspired by what's around you.
These experiences are a great launch pad to creativity - it doesn't have to be necessarily making animations afterwards but it might open a gateway to making other things. I know people who've gone on to make cake toppers out of icing and more! It can unlock your creativity and I think it's a great introduction back into the world of art, allowing you the freedom to play and have a lot of fun.
Why do you think these model making experiences perfect for the whole family?
They started out 12 years ago now as something we did just for children, but we quickly realised that some adults would sometimes help a little bit too much! It made sense to give the parents and adults some modelling clay and get them involved too. The workshops are really collaborative in a way I hadn't anticipated when we started them. There's a bit of competition within families and friends, but there's also a lot of helping each other along the way.
Do you have a favourite Aardman character to make?
I love making a Gromit but when it comes to model making, I think Morph is still a really great challenge - there's something deceptively tricky about him. I started out as a young child watching Morph, and that's where my inspiration to get into animation began. He has that hand made look that makes you think 'maybe if I have a go I could make him'.
When it comes to productions, it has to be Creature Comforts. It was so fun making animals all day - I'm a great lover of wildlife and creating and sculpting different animal characters every week was a real dream.
What do you hope people get out of an Aardman model making workshop?
First off, they should go home with a Morph, Shaun or Gromit that they've made themselves. What I try to do is make it so that the workshop can be the start of something creative, if you'd like it to be. I always give people advice on how to take the next step to bring their creations to life. There are lots of free apps out there that you can use to start to make your own animations at home, even if it's just to share with friends or family. I know people who've made animated birthday cards for grandparents and other short videos, and you can also use lego or action figures to animate with as well as plasticine.
People go away with more of an appreciation of how to make an animation and a little snapshot of the kind of things that we do to make them at Aardman. Seeing the models in life always helps to give you a sense of scale too, as when you're looking at the characters on screen it's hard to tell how big they are - in many ways it increases the wonder of what we do.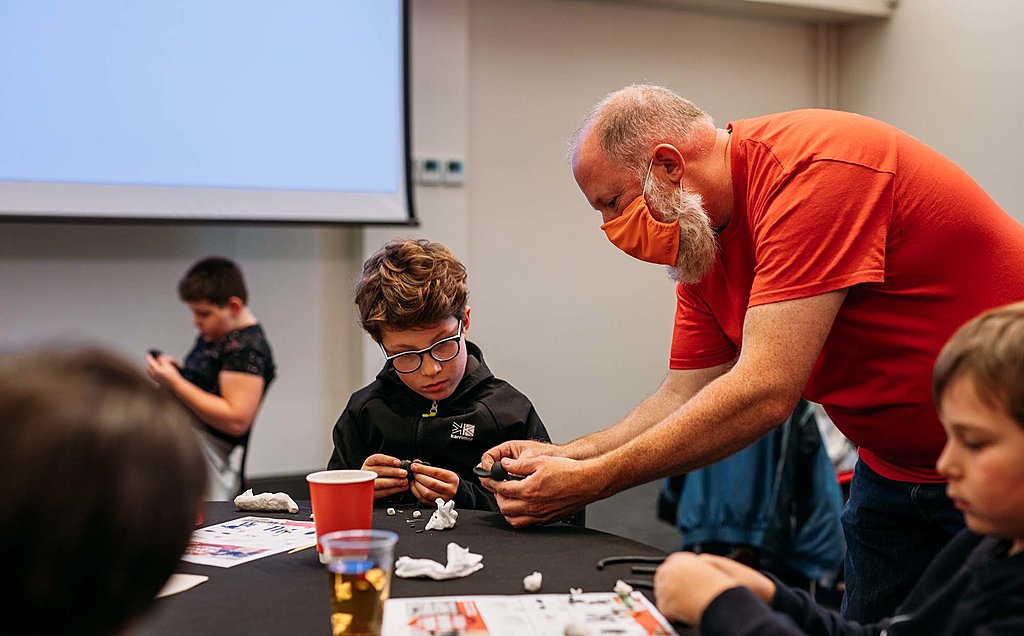 What tips would you give to people who feel inspired to start animating after one of your experiences?
Keep making, keep practicing and have a go. Don't be afraid to destroy what you've made through animation, simply have a go at making another model and even start to make your own characters. You can have a go at other types of animation as well. If you don't feel that confident with making models you could move objects around or even try a time lapse animation, which is quite exciting too.
Any Bristol maker can become a Yuup host and create an experience around their craft - what advice would you give to new creative Yuup hosts?
For me a lot of it is about storytelling actually. It's about being able to tell little stories about what you do. Sharing your skill with people can really reignite your enthusiasm for what you're doing too - seeing the spark of creativity in others is quite fulfilling and I get a tremendous amount out of it. I would recommend it to any maker. It also encourages you to look at how you're making things - doing it yourself is very different to explaining it to someone else! Having to explain it to your guests can actually help you streamline your own creative processes. It refocuses your making and can completely change how you work as well. I've learnt loads of things from kids at our workshops because they don't have that hindrance of thinking that there's a set way of doing things. Instead they put things together in chaotic order and create some amazing stuff in the process.
Overall, it's a brilliant opportunity as a crafts person to show off a little. It's a great PR exercise for any creatives to show people what you're doing, meet new customers, share your craft with them and really get people excited about what you do.
Ready to get creative and go model making with Aardman? With dates at SS Great Britain throughout the summer, you just need to pick whether you'd like to make Shaun the Sheep, Morph or Gromit and book to come along.
For those who love Morph from his early appearances on Take Hart to the new series of The Amazing Adventures of Morph, there will also be a special one-off evening with Morph hosted by Jim Parkyn for adults, filled with studio anecdotes, nostalgia and model making too.