Shake out your picnic blankets, give your sunglasses a wipe, and dig around for that two-year-old bottle of suncream because it's official– summer is back!
Having reached the summer solstice, the U.K. is now basking in 16+ hours of glorious sunlight. Get ready to catch those delicious wafts of freshly cut grass and soak up the sun with drinks and friends by the harbour. There's something really special about this time of year isn't there?
Summer is also the ideal time to get out and explore the city and surrounding countryside. You can find fun activities near you in every nook and cranny of Bristol! From the bustling areas of Bedminster, Southville and Totterdown, to the quirky streets of Stokes Croft or the class of Clifton– you won't be lost for choice. There are even things to do on rooftops!
So whether you're looking for fun summer activities to do by yourself, unforgettable days with your best friends, school holiday outings with the kids, or even lovely experiences with your grandparents- you'll find something for everyone on Yuup!
Did you know you can take a sheep for a walk in a beautiful country park? Have you ever tried paddleboarding around Bristol's iconic harbourside? Well, this year's your year! Grab your sunhat, turn on your summer playlist, and get out there!
If you're buzzing to get your summer activities planned out, then consider below an inspo guide to 9 of our top summer experiences you have to try in Bristol this year (2022):
Stand-up paddleboarding in the harbourside
Organic wine tasting with your friends in Southville
Go on an adorable sheep trekking experience
Have a go at cold water swimming in Clevedon
Celebrate Bristol Pride with fun drag experiences
Go on a bat safari, stargaze, and make wood-fired pizzas!
Go on an evening bike adventure with the family in Yatton
Try archery, axe throwing or campfire cooking
1. Stand-up paddleboarding in Bristol's harbourside: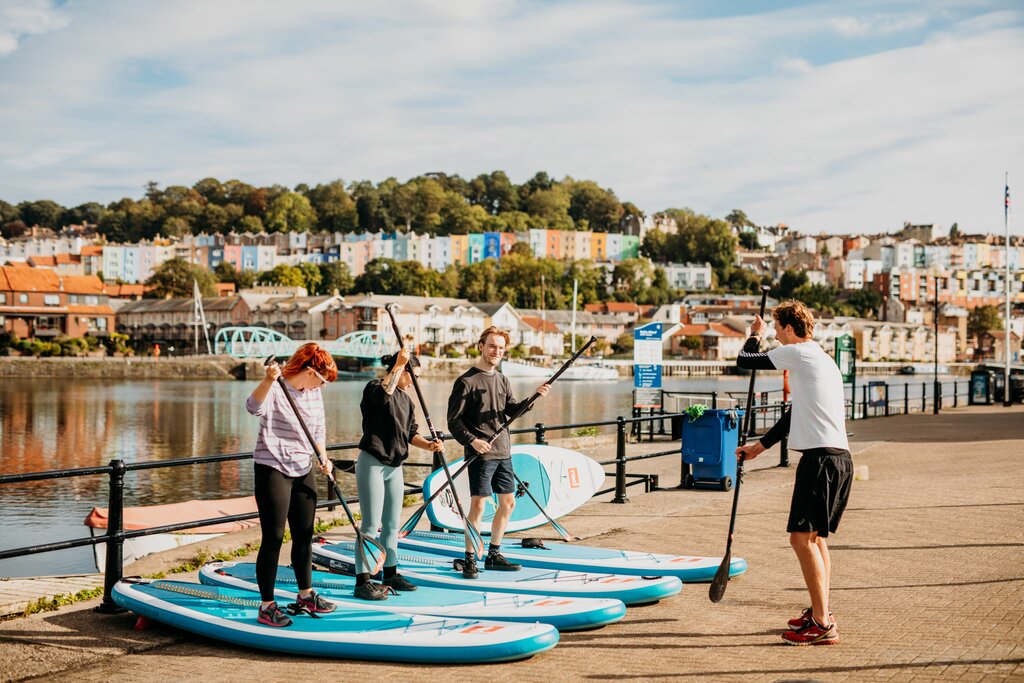 2. Wallet-friendly organic wine tasting at KASK:
3. Sheep Trekking days out at Lower Woodram Farm:
Take a sheep for a walk, you say? Why not?!
In this one-of-a-kind experience, you will take an adorable sheep for a walk through the rolling countryside.
This one is sure to leave you feeling all fuzzy and wholesome (much like a sheep) and is perfect for a family day out or even a unique romantic treat for someone you're dying to impress!
Go at your own pace and drink up the gorgeous views of the farm, stopping for the occasional selfie with your new woolly best friend. Baa-eautiful!
🐑 Sheep Trekking at Lower Woodram Farm, Taunton: from £20 per person
4. Introduction to cold water swimming in Clevedon Marine Lake:
5. Experiences to celebrate Bristol Pride Festival:
6. Stargazing evenings, bat safari and pizza party with Moor Wild:
7. Pedal-assisted evening bike rides, Strawberry Cycle Line:
9. Archery, axe-throwing, or wild campfire cooking in Kelston:
Looking for more? Click here to search for hundreds of unique experiences to satisfy your summer!