The first meals outside after a winter of eating indoors are such a delight. There's nothing quite like enjoying fresh air and warm weather at the same time as tucking into something seriously tasty.
One of my favourite things about eating outside in Bristol is the variety of locations and views you can find. You could spend the morning having coffee and cake by the boats in the harbour, grab a bite right next to a Banksy, and then enjoy pub grub beside an inner-city farm- all in one day!
The Bristol food scene is colourful, creative, and exceedingly tasty! If you're looking to enjoy it with a hands-on twist this spring, these al fresco foodie and dining experiences have to go on your to-do list!
1. Have the best BBQ of your life with a celebrity chef home barbecue
Ever wanted a private chef? Well, now you can have one! Feel like an A-lister with a flame-cooked three-course lunch for you and a guest a la BBQ Ben. Award-winning chef BBQ Ben has been featured on This Morning, Ready Steady Cook and BBC Breakfast TV, and he will show you the art of the BBQ: grilling, smoking, tools, marinades, rubs, sauces and more.
You can enjoy this experience at your place or at BBQ Ben's home in Horfield. After this masterclass, everyone will be begging to be wined and dined at your house this summer (sorry not sorry).
📍 Your place or Horfield!
☞ Celebrity chef home barbecue with BBQ Ben, £149 for two
2. Enjoy the West Country's tastiest export with a cider tour around the harbourside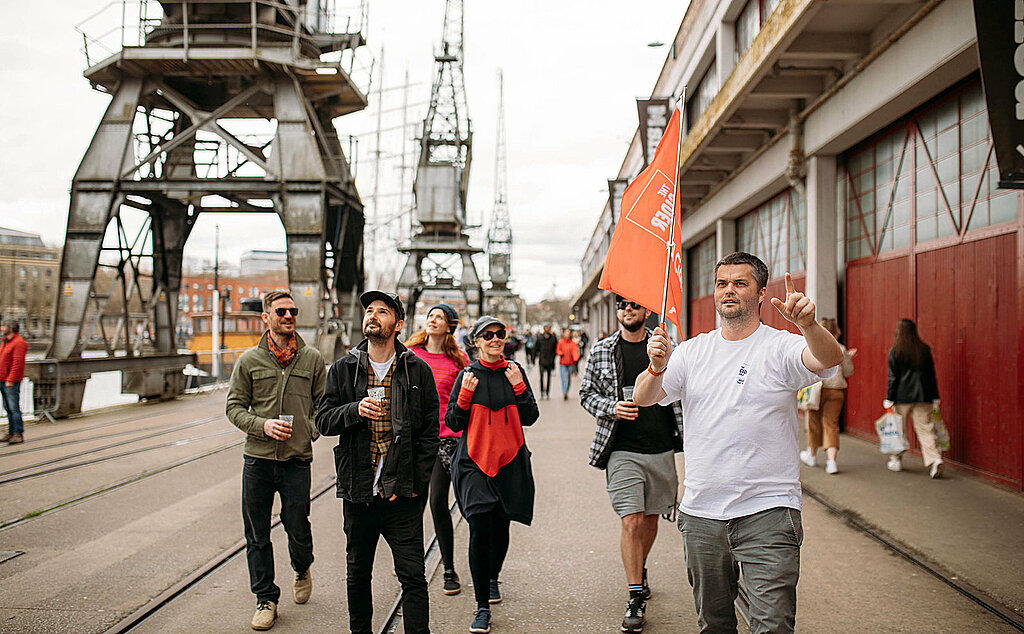 Want to explore the best ciders in Bristol in some of the best pubs around Bristol harbour? Here you go! Enjoy the best of the West with Wapping Wharf's The Cider Box. This walking cider tour will take you to the city's best craft cider spots with enthusiastic hosts that'll share stories of the heritage, craft, and history of the South West's greatest export.
Your cider tasting adventure also includes a pitstop at specialist cheese shop the Bristol Cheesemonger for locally sourced cheeses. Umm... yes please!
📍 Arnolfini Gallery Ltd, Bristol, BS1 4QA
☞ Bristol cider tasting tour, £34 an adult
3. Forage to fork with wild cocktails and a chef's lunch at Combe Hay Vineyard
This experience is almost the literal definition of celebrating spring! You'll take a guided spring foraging walk in the stunningly peaceful private woodland of Combe Hay Vineyard. You will pick bundles of fresh spring greens, edible flowers and herbs that will be made into a light lunch as you relax with a wild cocktail. You'll then enjoy your meal with your foraged wild ingredients and a bunch of newly found friends. What an alfresco delight!
📍Combe Hay Vineyard, Bath, BA2 7EG
☞ Forage to Fork at Combe Hay Vineyard, £85 an adult
4. Go on a tandem bike adventure and tuck into a sunny picnic on the Strawberry Line
Have you ever ridden a tandem bike? Well here's your chance! The Strawberry Line is a peaceful, traffic-free stretch that takes you past woodland, orchards, valleys, wetlands, and a nature reserve. Hire a tandem from Strawberry Line Cycle Project and they'll provide you with a route that takes you from Yatton station to Cheddar Gorge and a quaint picnic to enjoy on your ride.
The Strawberry Line Cycle Project can be reached easily by train from Temple Meads, so you don't need to have a car in order to escape to the country!
📍Great Western Railway, Bristol, BS49 4AJ
☞ Ride a bicycle made for two, £55 for two adults
5. Chef's lunch, guided foraging walk, and cooking with fire masterclass
This one really is a springtime showstopper and is such a unique way to enjoy the outdoors.
Join professional chef and forager Flavour Fred for a wild cooking with fire masterclass, guided foraging walk, AND chef's lunch. It's a foodie's dream come true! Your day will be spent in an outdoor roundhouse kitchen and private woodlands as you discover new flavours hidden amongst the trees. You'll perfect the art of wild cooking on an open fire, be served fresh and exciting Eastern Mediterranean dishes from experienced chef Flavour Fred, and uncover unusual seasonal ingredients in this rustic, cottage-core dining experience.
📍Brown Rock Farm, Bristol, BS21 6RT
☞ Chef's lunch, foraging walk & cooking with fire, £130 an adult
6. Foraging for floral cordials and syrups
It's almost elderflower prosecco time, isn't it? Thank goodness! You can make your own this year after a brilliant foraging workshop with Maria from Healing Weeds. She'll walk you through the art and science of making medicine with wild plants and show you which Bristol flowers can be used to make delicious cordials and syrups. Your seccy (prosecco) will love you for it!
📍53 Conham Hill, Bristol, BS15 3AW
☞ Foraging for floral cordials and syrups, £55 per adult
7. Wild woodland campfire cooking on the outskirts of Bath
A romantic date with a difference, some wholesome family fun, a great laugh with a group of your besties- this rustic workshop ticks all the boxes!
​Learn the basics for fire-making from one of Brocks Outdoor Adventures' enthusiastic and friendly instructors. Once your fire is up and running you'll cook Bear Grylls stylee upon the open flame. You'll make a meal, enjoy a complimentary hot drink, and then pick a pudding to cook over the fire you've just built- all in your own private space of woodland. Absolutely perf!
📍Kelston Roundhill, Kelston, Bath, BA1 9AF
☞ Wild woodland campfire cooking, £25 per adult