Bristol Film Festival is back this autumn for another stellar line-up of classic cinema in iconic venues!
The festival will begin on Friday, September 2 (2022), and is offering immersive screenings with wine tastings, special talks, drinks pairing, after-hours visits and more.
From spooky cinema in Arnos Vale Cemetery to family favourites in Clifton Observatory and even classics under the Concorde at Aerospace Bristol, you'll be catching unmissable movies in unique locations all across the city!
One special highlight of this season's festival is an optional pre-show deli box full of delicious local cheeses, provided by Bristol cheesemonger Two Belly.
Each of the screenings with added drinks and snacks are all designed with the film in mind, so you're in for a truly immersive experience! Picture making your way into a cellar for some wine tasting, followed by a cult vampire movie. What could be more fang-tastic? (Sorry, couldn't resist!)
As the weather gets a little cooler and the sky is filled with falling leaves, what better way to welcome the darker days than by watching a spooky movie in a graveyard? Or a classic horror in an underground cave? Autumn really is a special time for Bristol Film Festival!
So without further ado, below is a look at just some of the screenings for this autumn's Bristol Film Festival (2022):
Fantasy in Redcliffe Caves
The Redcliffe Caves are a network of underground vaults carved over hundreds of years by Bristolians of times gone by (the oldest parts date back to the Middle Ages)! These caves go on for miles from Temple Meads all the way to St Mary Redcliffe and are the stuff of local legend. Mysterious and other-worldly, what better setting is there to watch a fantasy movie? You'll feel like you're in a whole other realm!
Fantasy films showing in the Redcliffe Caves:
Horror in Redcliffe Caves
Lurking underground, deep beneath the bustling city streets- it goes without saying that the Redcliffe Caves also make the perfect setting for classic horror screenings! Will you be brave enough?
Horror films showing in the Redcliffe Caves:
Spooky season at Arnos Vale Cemetery
A trip to Arnos Vale Cemetery will see you walking through old Victorian tombs, Gothic mausoleums and hidden leafy corners. This Grade II-listed graveyard is the ideal venue for this year's Halloween-themed classics. Screenings in the cemetery will be sure to satisfy your October cravings for all things spooky!
Spooky screenings at Arnos Vale Cemetery:
Special screenings with drinks and treats
This season will see select venues pairing classic films with special treats. From wine tasting in Averys Wine Cellars to classy gin & tonics in Clifton Observatory, these pre-showing extras are carefully matched to each movie, so you can have an extra special, immersive experience! Avery Wine Cellars has also teamed up with Bristol cheesemonger Two Belly, to bring you a tasty deli box full of delicious cheese. Settle down, tuck in and enjoy!
Special screenings with drinks and extra treats:
Show-stopping date nights movies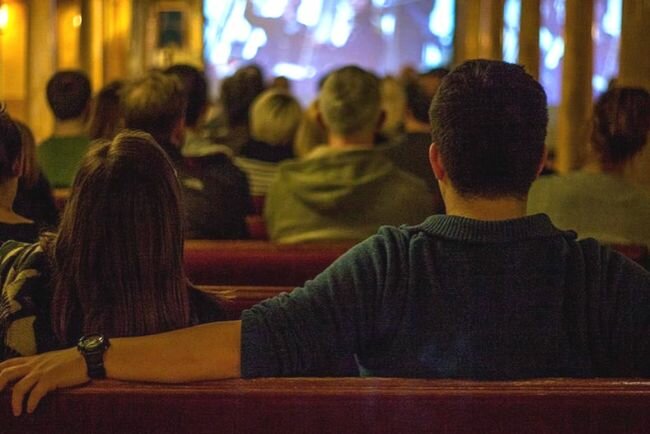 Rom-coms. 80s cheese. Musical show-stoppers! These iconic films have made decades of movie-going couples happy. So whether you want to sing along to Grease or shed a tear or two for a pair of star-crossed lovers, these screenings have you covered!
Film screenings for date nights:
Crackin' cult classics
Calling all movie buffs and film fanatics! These cult classic screenings are for you. You may have seen these hundreds of times, or perhaps just heard about them along the cult movie grapevines. But have you ever watched them inside a cave? How about in a museum at nighttime? Get ready to enjoy your favourites like never before.
Cult classic screenings:
Want to know what else is on? Find more Bristol Film Festival screenings here!